The Streetcars are Here!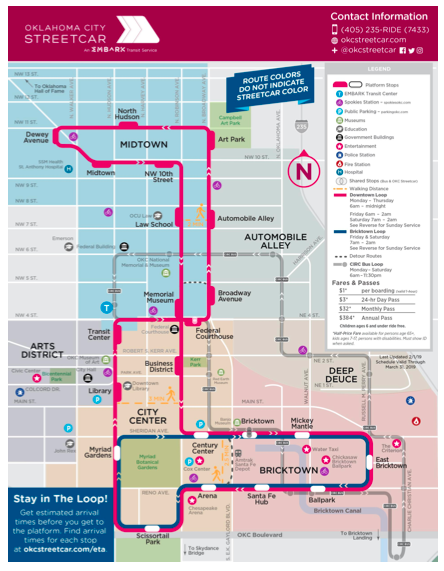 Oklahoma City is now home to beautiful new streetcars, coined the Oklahoma City Streetcar. The $135 million dollar project offers a convenient way to travel between districts in and around downtown Oklahoma City. Here is everything you need to know about riding the new streetcars!
March Newsletter Before you board, it's important to know where you are getting on and where you are getting off. All rides start and end at a streetcar platform. There will be a kiosk screen at each stop that will inform you about when the next streetcar will arrive, and whether or not there are any service interruptions. You can buy your fares ahead of time by downloading a Token Transit app on your smartphone. To receive the most up to date information on arrival times for each stop, visit okcstreetcar.com/eta.
Fare prices are as follows:
$1 – Single Ride
$3 – 24 Hour Day Pass
$32 – 30 Day Pass (Available via App Purchase Only)
$384 – Annual Pass (Available via App Purchase Only)
Ages 65 and over, persons who qualify for disability, all Medicare card holders and children between 7 and 17 are eligible for half-priced fares. Children 6 and under may ride free.
Be sure you have your ticket ready. These can only be purchased via the Token Transit app, or a ticket vending machine. Only cards and coins are accepted. Once the streetcar arrives and you're ready to board, press the yellow button near the doors to open them (if they don't automatically open), and enjoy your ride!
For drivers, be sure you are extra aware of the streetcar! The tracks are flush with the road and one of the new streetcars may be in your blindspot. Be sure to look twice before making turns!
Staying Motivated to Get in Shape in 3 Easy Steps
Studies show that 98% of Americans set a goal to get in better shape every year, but only 3% actually achieve that goal. Now that we're beginning the third month of the year, here are some easy tips to help you stay on track!
1. Determine Why You Want to Get in Shape
Checking your motives is one of the first steps to becoming successful. If you want to get in better shape because everyone else is doing it, or to make yourself more attractive for a significant other, you're less likely to achieve your goal. One of the main factors in achieving your personal goals is to ensure that you are pursuing this journey for you and no one else.
2. Determine a Plan that Fits Your Lifestyle
Setting up an aggressive plan is great, but if its unrealistic for your particular lifestyle, then you're less likely to follow it. Going to the gym 6 times per week sounds like a great routine, but if you can't realistically follow it, it does you no good. Ensure that your goals, whatever they are, are achievable for your particular lifestyle. For example, if you work long hours and cooking dinner is a challenge, try preparing pre-portioned meals that will last several days. This may help you be more successful in the long run, rather than coming home and eating what's convenient.
Many people have turned to the ancient technique of Intermittent Fasting (I.F), which has proven to be effective with explosive results! One great example of intermittent fasting is to skip breakfast, eat lunch around 1pm, and then have dinner around 8pm. After dinner, fast for the next 16 hours until it's time for lunch the next day. Individuals who've followed methods like this have reported an increase in muscle mass, a decrease body fat, and an improvement in energy, alertness and stamina! Marcy Fassio also follows similar intermittent fasting practices! Reach out to her if you need any legal or intermittent fasting strategies 😉
3. Track Your Progress
Nothing is worse than thinking you're doing a good job and then getting a harsh reality check that you're still where you started. Keeping a journal that tracks your progress will keep you aware of how you're progressing toward your goal. This journal can be a photo journal, a written journal that records your measurements and stats, or something as fun as social media posts.
Did You Know?..
Cursing in a public place is a crime? Additionally, swearing in front of a lady, or a child under the age of 10 can earn you a $100 fine or up to 30 days in jail….or both!
~ §21-906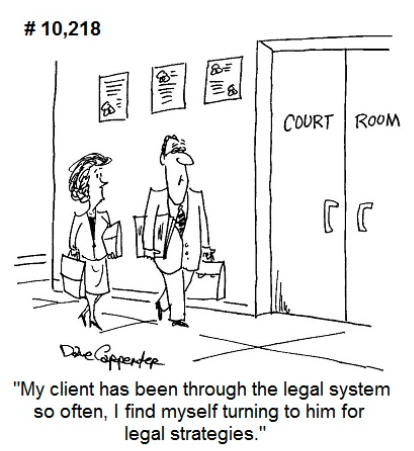 With Marcy Fassio, you can trust that she knows what she's doing.
Her strategies are aggressive and her legal senses are sharp!
Question of the Month
What attorneys from famous legal cases do you admire?
Is it Johnnie Cochran from the O.J Simpson trial?
Is it Shawn Holley, who got Lindsay Lohan out of many of her legal woes?
Why do you admire these attorneys?
Did they possess particular qualities that stood out to you?