Oklahoma Will Vote to Legalize Marijuana in June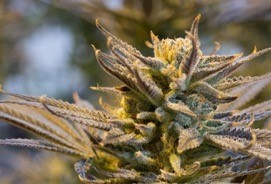 Oklahoma residents will take to the polls this June to determine the fate of medical marijuana in "the Sooner State".
Despite it's controversy, medical marijuana has proven to provide significant benefits, especially when it comes to community safety and crime. Many are surprised about the positive effects that it can have on a community, in lieu of the stigma that comes with it's name. Though many initially are against the idea of
legalizing a drug such as marijuana, its legalization actually aids in dismantling the local black market. In areas where the substance is still illegal, even for medical use, the local black market is really the only place to obtain it. This translates to purchasing cannabis from local drug dealers, or those involved in organized crime; a path that can go downhill very quickly with severe legal implications should one be caught in such a transaction, or with the substance in their possession.
There's also the health benefit of medical marijuana. As many know, marijuana, as well as its byproduct, CBD, have been proven to treat a wide array of conditions, which include:
Cancer
PTSD
Multiple Sclerosis
Parkinson's Disease
Epilepsy
Migraine Headaches
Chronic Anxiety
Chronic Pain
Insomnia and many more
Additionally, there is the tax revenue that many states who have legalized marijuana have benefited from. With over $135 million in tax revenue that states collected in 2015, a number which continues to grow, these beneficial tax dollars have gone into much needed improvements, such as hiring more firefighters and police officers, fixing roads, improving public schools and funding public projects.
Although, the topic of legal marijuana is still a sensitive subject that many are still uncomfortable with, a legal avenue to obtain cannabis leaves many benefits in it's wake. Ultimately, it will be up to Oklahoma voters to decide it's fate in June of 2018. However, it is important to remember that until then, it is still a crime carrying up to a year in jail. If you need an attorney to fight a marijuana charge, Marcy Fassio can ensure your case is handled and resolved, giving you the best possible outcome.
Are You Breaking the Law…
Without Knowing it?
Every state has strange and outdated laws that either the state legislature, or an individual city has passed that were never overturned or eradicated as time passed. Though many law officials may or may not enforce these laws because of their…..strange nature, you never know, you break one of these and you may find yourself with a fine, as these laws are still technically in effect.
1.      Whaling is illegal (§ 29-2-135)
Whales are such majestic, gentle creatures. Some of them are considered endangered due to the impact of commercial whaling and other environmental threats, which is why a brave state legislature made it illegal to commit such an act. The only problem: Oklahoma is a landlocked state. It is important to note that whales are not specifically mentioned in this law. Many attribute this to the fact that the law mentions "threatened wildlife", and somehow many made the connection to whales. However, if, by some unbelievable chain of events, a whale ends up in an Oklahoma lake, don't harpoon it….it's illegal.

When Searching for a Defense Attorney…
Hire the Best
Marcy Fassio of Fassio Law has proven to be an incredible asset to all of her clients, regardless of how large or small the implications they are facing. Her extensive experience, and undeniably favorable outcomes for her clients have the legal world buzzing. From her clients raving not only about how personable she is, and how comfortable she makes them, but she has such a strong record for winning her cases.
Ms. Fassio's strengths have shined, earning her extensive awards which include:
A top rating by The Super Lawyers Rising Star List
The National Trial Lawyers Top 100 Trial Lawyers
2018 Best Criminal Defense Lawyers in Oklahoma City
A perfect 10 rating on Avvo, and many more
Ms. Fassio's skills not only have the legal community raving, but everyone from clients to jurors are also shouting from the rooftops:
"I was the Juror on a murder case that Marcy tried. Marcy was a very professional and intelligent attorney always presenting the evidence in a tactful and effective manner. If I were to ever need a defense attorney I would absolutely hire Marcy to represent me as she has seen both sides of the courtroom making her a very a confident, effective and proficient attorney."
-A.B
"Marcy was an absolute pleasure to work with. She was very quick to respond, worked very hard for me and got me the result that I was looking for. I would highly recommend her to anyone looking for an attorney. She is punctual, diligent and understands how the system works. She treats her clients with respect and understanding. Give her a shot and you won't be disappointed."
-A.S
Its no secret that Attorney Fassio is among the best of Criminal Defense Lawyers. From her extensive experience and knowledge, to her "can-do" attitude and precision tactics, using Ms. Fassio as your defense attorney is a no brainier.
If you know someone who needs a great defense lawyer, please to refer them to Fassio Law. We would love to help them with their legal situation!